Conferences Attended
Regionals 2021 (Virtual) 
Carmila Camaro: Aluminum Air Battery 
Louisville, KY
Despite facing challenges due to COVID, the team placed 2nd place in the ChemE Car poster presentation and 5th in the overall ChemE Car competition qualifying them for nationals!
Nationals 2019
Pittsburgh, Pennsylvania
Myst-air-y Machine
At the 2019 AIChE Nationals Conference, the team placed in 6th amongst 38 teams around the world.

Regionals 2018 
Baton rouge, louisiana
Myst-air-y Machine
The team provided a fun design to the fuel-cell powered car. With the new improvements, we placed 2nd in the Regional Chem-E car competition, qualifying us for Nationals.

Regionals 2017 
Knoxville, Tennessee
Barbie's Dream Car 
Being a majority female team, we decided to show our pride for the powerful role of women in STEM fields by naming our car Barbie's Dream Car. We were excited to take 3rd place in the poster competition. We did not place in the Overall Competition, but that just meant we had extra time to start innovating our car designs.
Regionals 2016
Tuscaloosa, Alabama
The Great Big Orange Car 
The team built upon our safe, effective hydrogen fuel cell and iodine clock reaction from the previous competition year and were able to place 5th in Overall Competition, qualifying us for nationals.
Nationals 2016
San Francisco, California
The Great Big Orange Car 
At the AIChE National Conference, we competed with the best teams in the United States and even some from other countries. A dying fuel cell caused our car to stop too early but the other teams gave us great inspiration for future designs.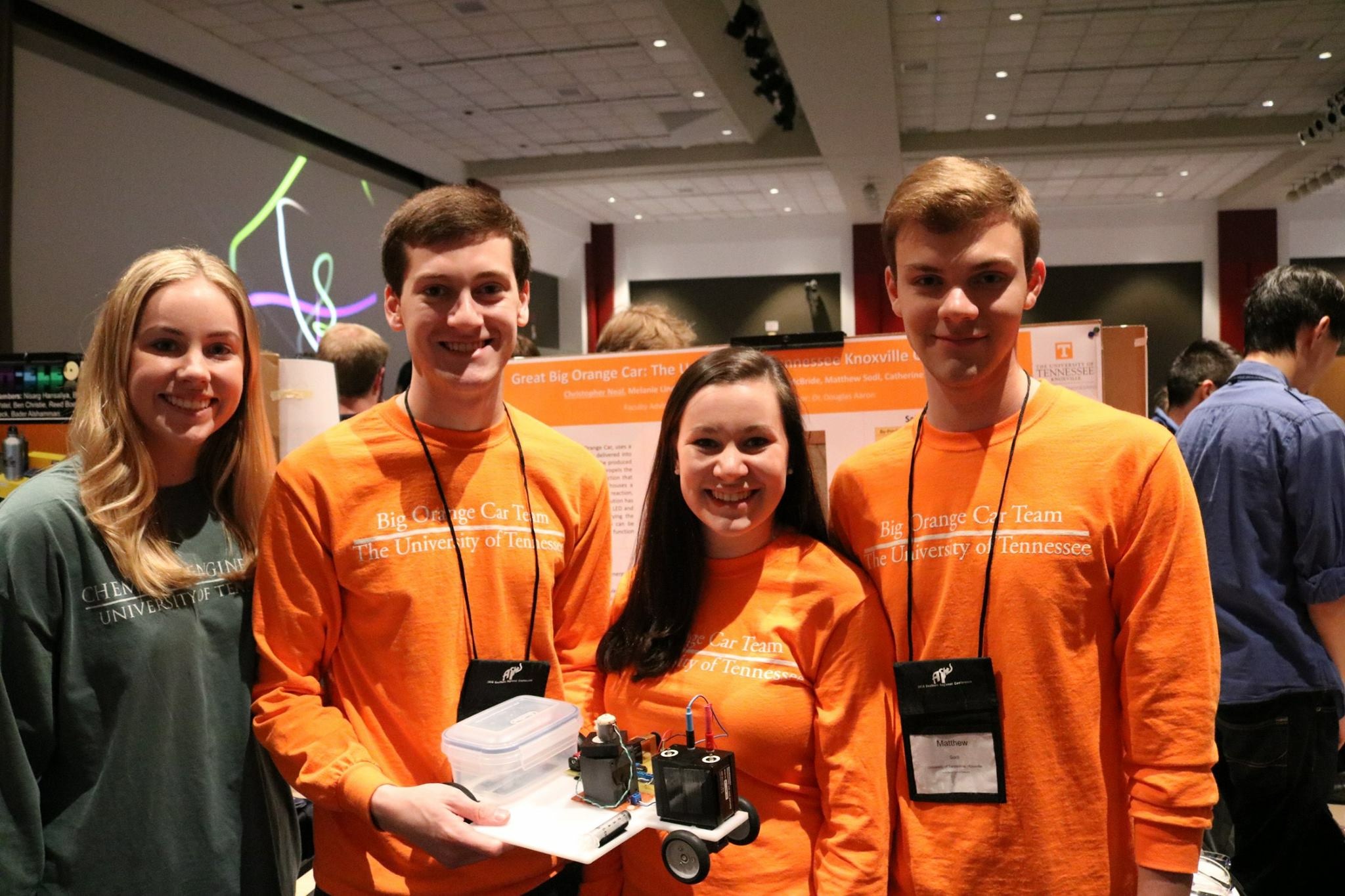 Nationals 2015
Salt Lake City, Utah
The Great Big Orange Car 
The team was very excited to compete with our design that runs with a hydrogen fuel cell and stops using an iodine clock reaction. We pride ourselves on the safety of the design. All the chemicals are safe enough to drink- although it is not recommended.
History of Awards
Fall 2019 Southern Regional Conference in Pittsburgh, Pennsylvania
6th Place- Overall Performance Competition
Spring 2018 Southern Regional Conference in Baton Rouge, LA
2nd Place- Overall Performance Competition
Qualification for the 2019 National Chem-E Car Competition
Spring 2017 Southern Regional Conference in Knoxville, TN
3rd Place- Chem-E Car Poster Competition
Spring 2016 Southern Regional Conference in Tuscaloosa, AL
5th Place- Overall Performance Competition   
Qualification for the 2016 National Chem-E Car Competition
Spring 2015 Southern Regional Conference in Clearwater Beach, FL
3rd Place – Overall Performance Competition
Qualification for the 2015 National Chem-E Car Competition
Spring 2014 Southern Regional Conference in San Juan, Puerto Rico
2nd Place – Chem-E Car Poster Competition
Fall 2013 National Conference in San Francisco, CA
Spring 2013 Southern Regional Conference in Lexington, KY
3rd Place – Overall Performance Competition
3rd Place – Chem-E Car Poster Competition
Qualification for the 2013 National Chem-E Car Competition